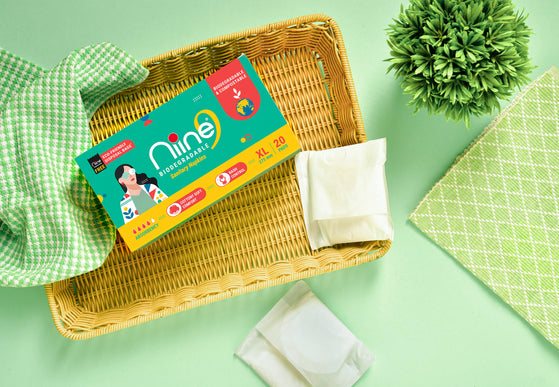 Niine Biodegradable & Compostable Sanitary Napkin
Niine provides sanitary pads for women that are ideal for both light and heavy flow days. Introducing the Niine Biodegradable Sanitary Napkin, offering cottony soft comfort and rash free protection during periods. With its biodegradable and compostable nature, it helps reduce the menstrual waste in the environment while providing ultimate comfort and peace of mind to the users. Experience the future of feminine hygiene with its eco friendly materials, superior absorbency, and gentle care for your skin. Each pack includes biodegradable disposal bags, ensuring hygienic disposal of used pads.

Categories: Sustainable Hygiene
ABOUT PRODUCT
BIODEGRADABLE NAPKIN
Q1. What are our sanitary pads made of?
Our pads are made up of natural ingredients with certified OEKO-TEX® Extra soft Top sheet and FSC Certified absorbent core.
Q2. How are we different from our competitors?
Our pads are crafted with 100% compostable cotton that are as absorbent as normal pads and they ensure leak proof protection. They're not just great for your skin, but also good for the environment as they are made up of PLA fabric that are completely degradable.
Q3. How frequently should you change your pad?
We recommend changing your pad every 5-6 hours during the day to prevent leakage or odors.
Q4. Are biodegradable pads absorbent?
Yes, our biodegradable pads provide superior absorbency and cottony soft comfort throughout the day.
Q5. How do Niine Biodegradable pads help prevent skin irritation and rashes?
Our pads contain no harmful chemicals such as chlorin, ink or heavy metals that can cause skin irritation and rashes.
Q6. How do I dispose of my Niine biodegradable pad?
After rolling the used pad, place it in the free disposal bag which is completely biodegradable and dispose of it in the garbage.
About Us
Niine provides some of the best sanitary pads in India that are ideal for light flow as well as heavy flow days. Compared to other sanitary pad brands, these pads are formulated without ink, to keep them chemical-free as they will be in contact with your intimate areas all-day long. This means that they will help you stay rash-free and comfortable throughout your menstrual cycle. The Nine Ultra-Thin XL+ sanitary pads in the 'Dry Comfort' and 'Naturally Soft' range are ideal for night-time, as they are extra-long to help prevent leakages, giving you an undisturbed sleep. You can buy these sanitary pads online. The buying guide for the different types of sanitary napkins you would need is available on the website.